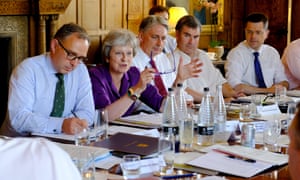 European diplomats gave a guarded response to Theresa May's Brexit compromise, while voicing concern about the existential threat they see to the EU's single market.
EU negotiators did not want to shoot down the prime minister's hard-won Brexit compromise on day one, but remain deeply uneasy about giving the UK unique status outside the EU.
One diplomatic source said the British prime minister had gone "through political hell" to secure the Chequers deal but that did not mean that "the British compromise is more palatable to the European Union".
"We will try to receive it as well as possible but from what we understand it is still a carve-out of the single market," said the source, describing May's proposed single market for goods as "a lot of fudge with a cherry on top".
Since the Brexit vote, European leaders have insisted the UK should not be able to cherrypick the EU rulebook. The four freedoms underpinning the internal market – goods, services, capital and people – have been declared indivisible, because leaders fear unravelling the entire European project.
"We are very unsure this is going to fly," the source said. "This position of the UK will demand so much political will on the EU side to make it happen … [May] will not be able to go much further than this and quite frankly it's probably not good enough for the EU."
As May's statement hit the newswires on Friday night, Pieter Omtzigt, a Dutch centre-right MP, tweeted that the Dutch parliament remained "very worried about a chaotic Brexit".
"This is the agreement that should have been reached the day Britain tabled article 50 notification," he said. "It would have been a viable starting point for the negotiations a year and two months ago."
He welcomed what he saw as the British decision "to cross one of its red lines by accepting the European court of justice because it will have to accept [the court's jurisdiction] over trade rules".
Alarmed at the threat of a no-deal Brexit, the Netherlands is recruiting 930 customs officers and 100 veterinary officials, following a recommendation from Omtzigt and two fellow MPs. "The way Britain has waited so long has imposed real costs even if it is solved."
The European commission is withholding judgment until it sees the British white paper, which is expected on Thursday. Michel Barnier, the EU's chief negotiator, is expected to give his verdict at a meeting of Europe ministers on 20 July. Although this meeting is seen as…