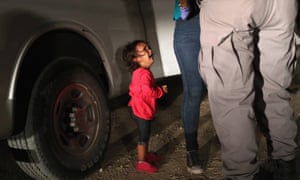 Photographer John Moore, whose viral image of a weeping two-year-old girl at the US border has become the potent symbol of the outrage over Donald Trump's controversial "zero tolerance" policy, including family separations, knew what he had captured was "important".
What he could not guess, however, was how great an impact his picture would have on the debate as it was published around the globe.
Moore, a veteran Getty Images photographer, who has spent a decade documenting immigration and US border issues, had been accompanying a patrol along the Rio Grande Valley.
"I was on a ride-along with the US Border Patrol in McAllen, Texas, last week," he told the Guardian. "[It's] in the Rio Grande Valley, the most heavily trafficked part of the entire US-Mexico border for undocumented immigration. I was with them from afternoon into evening."
Over the years, Moore had become familiar with both the routes over this border and the way different people reacted: how those who crossed individually, usually men, would run and try to hide from the border patrols. Many families, tired from their often weeks-long journey, would seek to surrender almost immediately to the officers whom they encountered.
Night had fallen and Moore was waiting in the scrub by the riverside for rafts carrying undocumented migrants, when the sound of four boats and a dozen people became audible. Those crossing were arrested almost immediately by border officers.
And unlike those in the boat, Moore knew what was likely to happen.
"I have photographed many immigrant families seeking political asylum at the border over the last few years.
"I am sure that most of these families had no idea of the new US policy to separate children from their parents during the immigration court proceedings.
"I knew, however, what would happen to many of them next – separation – after they were taken away, so it was difficult for me to witness.
"The agents grouped everyone together," he recalled. "[They] looked over their documents and noted their names and home countries."
Each of the adults was frisked before being loaded into a van to take them to a processing centre, he said.