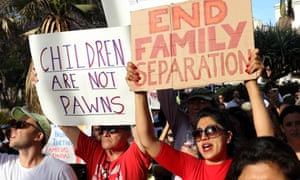 A Republican congressman from Texas who toured a tent-like shelter for hundreds of minors who entered the country illegally said on Saturday the facility is a byproduct of a flawed immigration strategy.
US representative Will Hurd said the shelter near the Tornillo port of entry in far West Texas will house about 360 boys who are 16 and 17. The teens began arriving on Friday, the same day Hurd toured the shelter, he said, noting that the boys were being moved from other shelters to make way for younger immigrant children taken into custody at the border.
Federal authorities are separating children from their parents as families arrive at the border. Hurd said the treatment of minors should not be used as a threatening means to prevent others from entering the US.
"This is a symptom…