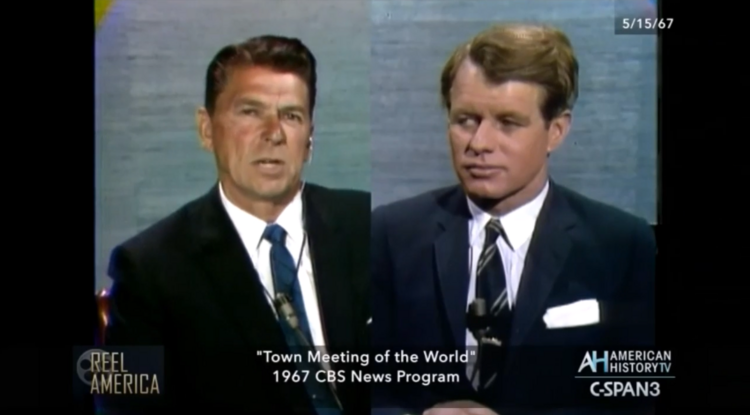 The world of politics was far from ordinary in 1968. The hope and promise of the decade's early years started to dissipate, first with the assassination of President John F. Kennedy in 1963 and subsequently with the social unrest that followed despite the passage of historic civil rights legislation. Feelings grew more and more raw over the Vietnam War when people began to realize that the perception was different from the reality. Robert F. Kennedy played a large role in the events of the 1960s, and he knew that he could be a divisive political figure. In the years after his brother's death, he had undergone personal as well as political transformations, and he spent the year before he announced his candidacy in anguish over whether he ought to run.
He knew that the political road ahead for him would be hard and risky. But he felt he had to try—and for his efforts, he lay mortally wounded on the pantry floor of the Ambassador Hotel in Los Angeles on June 6, 1968, after acknowledging his victory that night in the California Democratic presidential primary. People of every political persuasion mourned this additional tragedy, just two months after the killing of Dr. Martin Luther King Jr. in Memphis, Tenn. Many people had hoped that after Dr. King's killing, Robert Kennedy could somehow bring black and white Americans together. Now it seemed that hope was gone. Among those who opposed him politically but mourned him personally was one man who had recently crossed paths with him, Ronald Reagan.
Reagan was seen as a rising star in the Republican Party because of his strong support for presidential candidate Barry Goldwater in his 1964 "Time for Choosing" address and was elected as the Republican governor of California in 1966. With Barry Goldwater's landslide loss to Lyndon B. Johnson in 1964, many Republicans looked to the former actor for political solace and inspiration.
But politics was secondary for Reagan when he learned of Kennedy's shooting. That evening, he wrote out a quick note of sympathy and condolence to Ethel Kennedy, who was pregnant at the time with the family's 11th child and who was keeping vigil beside her husband at Good Samaritan Hospital in Los Angeles. Gov. Reagan's words were simple and heartfelt: "I know there is little anyone can say at such a time but if there is anything we can do to be of help in any way, please let us know. Our thoughts and prayers are with you. Nancy and Ronald Reagan." Reagan went so far as to offer the services of his neurosurgeon father-in-law, Dr. Loyal Davis.
Reagan's words to Ethel Kennedy were simple and heartfelt: "I know there is little anyone can say at such a time but if there is anything we can do to be of help in any way, please let…