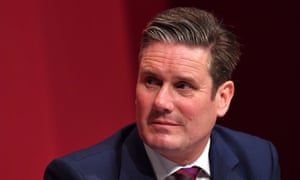 Labour's Brexit camps were at odds as Keir Starmer rejected claims he would squander the chance to defeat the government over an amendment to keep the UK in a Norway-style deal, saying his party was too divided to back it.
Labour sources suggested dozens of MPs in leave-backing seats had quietly warned they were prepared to rebel if the party leadership decided to back a Lords amendment to keep the UK in the European Economic Area when the EU withdrawal bill returns to the Commons next week.
In private conversations, some shadow ministers are understood to have said they might be prepared to rebel should Labour decide to whip in favour, presenting enough opposition to cancel out the number of Tory rebels.
Instead, Labour's frontbench announced a new amendment to the EU withdrawal bill, proposing "full access to the internal market of the European Union".
The new amendment stops short of calling for the full single market membership sought by a vocal group of Labour MPs.
Several pro-EU Labour MPs said the move would throw away the potential to defeat the government on the EEA amendment because pro-EU Conservative rebels were highly unlikely to back a Labour frontbench amendment, as opposed to a cross-party amendment led by backbenchers.
Starmer said there was no prospect of government defeat, because of the depth of the divide in the Labour party. He said MPs such as Chris Leslie and Chuka Umunna who backed the EEA amendment were well aware "it does not command support in their own party".
Starmer said there were "very divided views" in the party about a Norway-style model and he was "injecting some honesty about where we are in the party".
"The pretence that everyone in the Labour party is in the same place on…