Updated 6 p.m. | Posted 9:46 a.m.
Attorney General Lori Swanson's decision Monday to leap into the Minnesota governor's race set off a chain reaction Tuesday of state and local politicians rushing to seek new offices.
The first big political shake-up happened around noon when DFL U.S. House Rep. Keith Ellison came to the Minnesota Secretary of State's office to file for Minnesota attorney general, throwing a wild card into that race and opening the floodgates to candidates for Ellison's 5th District congressional seat.
A few hours after Ellison's filing, state Rep. Ilhan Omar, DFL-Minneapolis, signed up to replace him. Elected to the Minnesota House in 2016, Omar became the nation's first Somali-American legislator, making her run for Congress potentially historic.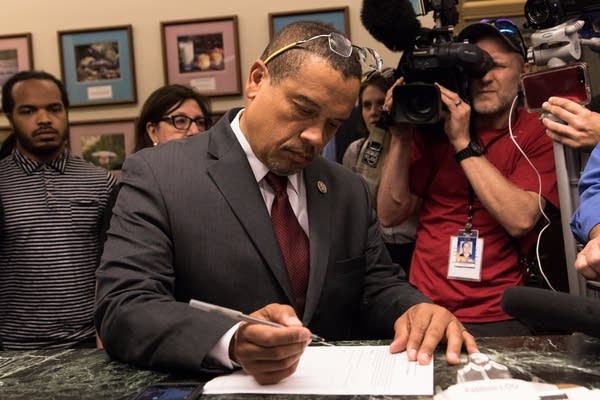 She'll contend with a raft of opponents who filed papers Tuesday for Ellison's seat, including former Minnesota Speaker of the House Margaret Anderson Kelliher, state Sen. Patricia Torres Ray, DFL-Minneapolis and state Sen. Bobby Joe Champion, DFL-Minneapolis.
The decisions by Ellison and Omar highlighted an unpredictable day of falling dominoes set in motion by Swanson's decision to run for governor. Candidates had until 5 p.m. to file. They have until the end of business Thursday to withdraw from the ballot.
"There's things you don't control, who files and who doesn't file," DFL Party chair Ken Martin said early Tuesday as the intrigue rose. "But one thing we do control is what we're going to be able to do over the next two months leading into the primary."
One way the @keithellison filing reshapes other races: The DFL primary for his now-open #mn05 will be treated akin to a general election, possibly blowing turnout in that district off the charts. #mn05 could be more pivotal than #mn08 in up-ballot DFL impact.

— Brian Bakst (@Stowydad) June 5, 2018
Former attorney general Mike Hatch got the ball rolling Tuesday morning when he filed to run for his old seat. Despite doing the paperwork, he said he'd make a final decision on whether or not to run based on who else files.
Hatch mentioned state Rep. Debra Hilstrom, DFL-Brooklyn Center among qualified candidates who might lead him to stand down.
Hilstrom filed just after 11 a.m. Tuesday to run in the primary against DFL-endorsed attorney general candidate Matt Pelikan, who won the party backing after Swanson withdrew her name for consideration.
• Race for…