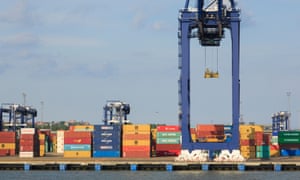 Britain should accept continued EU regulations in goods in return for retaining access to the EU single market, one of the thinktanks closest to Downing Street has proposed.
After consultations across business and politics, a report from Open Europe concludes: "There is no strong business case for immediate significant divergence from the EU's regulatory regime." It says adherence to EU standards would not restrict growth in the export of British goods outside the EU.
The report says the proposed "enhanced mutual recognition agreement would mean most goods manufactured by in one country would be considered pre-authorised for sale across others".
The proposal will anger many Eurosceptic MPs, but Open Europe – a thinktank that in the past has provided some of Downing Street's most senior policy European analysts – says the government has to shift position both to unlock the polarised political debate and to meet demands clearly expressed by British business.
The proposal will be taken as another sign that the tide of opinion is shifting away from a free trade deal in which the UK gains little access to EU markets in return for the right to full regulatory divergence.
The Open Europe compromise has strict limits since it suggests the UK should be free to regulate itself in services – the bulk of the UK economy – and should not accept a customs union or a common external tariff.
It also suggests the UK could be allowed to decide for itself whether it wishes to accept new EU regulations in goods, so long as it acknowledges that rejection of such new regulations would limit future UK market access.
The paper assumes that the UK will negotiate a standstill agreement until December 2020 in which the UK maintains all of its…