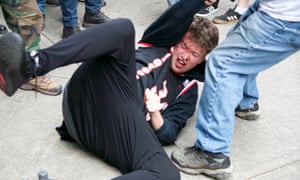 On Sunday afternoon, members of a far-right group led by a Republican Senate candidate engaged in running brawls with leftist counter-protesters in the streets of downtown Portland.
Joey Gibson, who leads the "Patriot Prayer" movement, is a candidate in the open primary for US Senate in neighbouring Washington state, seeking to challenge the incumbent Democrat, Maria Cantwell, in November's midterm elections.
From 4pm on Sunday, when the main body of Gibson's supporters attempted to enter Terry Schrunk Plaza in Portland, 30 or so rightwingers and around 200 leftwingers exchanged blows, streams of pepper spray and insults. One rightwing protester was dragged away by police with a bloodied nose and face. He had exchanged heated words with antifascists before being wrestled to the ground.
Portland police reported four arrests.
Over almost three hours, Patriot Prayer staged a series of marches through surrounding streets. Each time, antifascists pursued them and fights broke out on sidewalks, in a parking garage and in a waterfront park. Participants on both sides were knocked to the ground, hit with missiles and visibly incapacitated by pepper spray.
The rally was…