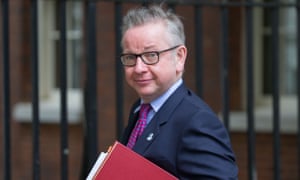 Michael Gove should be installed as the new Tory leader because Theresa May has shown that she cannot "carry Brexit through", a major party donor has publicly warned.
In a stark sign of the frustration among prominent Brexit supporters over the government's handling of negotiations with the EU, Crispin Odey, a hedge fund manager who backed the Leave campaign, said he believed the environment secretary had the skills to make a success of Britain's exit and appeal to voters.
Odey, whose most recent donation to the Conservative party was a £50,000 gift before last year's general election, said the government needed to be far bolder in its attitude to Brussels. It should be learning from the new Italian populist coalition government, which has plans that would defy EU rules on debt, he said, suggesting that Britain should start breaching EU rules by pursuing policies such as signing trade deals. He also backed a change in leadership.
"We've got to have that self-confidence to make breaches," he told the Observer. "There's no point in voting for freedom if you don't know what to do when you're free. What is true is that you have a whole lot of people who didn't want this to happen who are in charge of it happening.
"I would go to Gove. He's the only minister who is still being a minister. Michael has got lots of attributes that make him a non-traditional Tory. He is very aware that he has to appeal not just to the wealthy, but also more broadly. I don't think May can carry Brexit through any more."
He added: "Italy has confronted the EU – they've said they will go ahead and be in breach of its rules.
"We should say, 'we've got to have life…