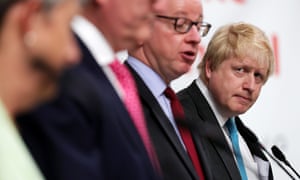 A charity operating as an influential pro-Brexit thinktank "crossed a clear line" in its political work, according to the charities watchdog.
In a report published on Friday, the Charity Commission said the Legatum Institute Foundation breached strict rules that ban charities from political activities.
The commission warned that a report produced by the Legatum Institute, called the Brexit Inflection Report, could be seen as "promoting a political view directed towards securing a particular negotiating position" to achieve a "particular final outcome".
As a result, the charity's trustees were ordered to remove the report from the thinktank's website and be more cautious when publishing future reports on "controversial, highly political subjects".
The institute's output will be closely monitored in future.
The rightwing thinktank, which operates from a townhouse in Mayfair, was set up by the Legatum Group, whose founders include the New Zealand-born billionaire Christopher Chandler.
Early last month, the Conservative MP Bob Seely used parliamentary privilege to claim Chandler had been an "object of interest" to French intelligence because of his alleged links to Russian politics. The businessman has dismissed the claims of connections to Russia. He has also insisted that Legatum did not have a firm stance on Brexit, but was instead focused on prosperity.
Although the Legatum Institute charity was registered in 2011, it maintained a low profile before the Brexit referendum. As well as the Legatum Group, a private investment firm, there is also a non-charitable Legatum Foundation, which funded the report.