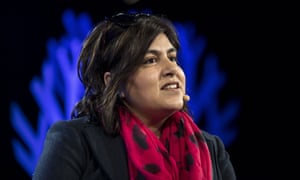 The Conservatives have been accused of failing to take the issue of Islamophobia seriously by the Muslim Council of Britain (MCB), which is calling for an independent inquiry into a problem it said had "poisoned" sections of the party.
Conservative party officials insisted they were treating the issue seriously, but the MCB cited nine cases of anti-Islam sentiment from Tory politicians and candidates since April, calling it "the tip of the iceberg".
Sayeeda Warsi, the party's former chair, said she had spent more than two years trying and failing to get her successors and Theresa May to engage with the problem, and warned that the Tories faced a wider institutional problem of Islamophobia.
Labour, which has faced its own recent controversy over antisemitism, said the Conservatives had shown a "systematic leadership failure" on the issue.
A letter to the Tory party chair, Brandon Lewis, from the head of the MCB, Harun Khan, called for a "genuinely independent inquiry".
He listed two months of incidents involving members, including one who shared a message which called Muslims "parasites" and another who posted a photo of bacon hanging from a door handle with the caption "protect your house from terrorism".
Khan questioned why no action had been taken against Bob Blackman, the Harrow East MP, after he re-tweeted an anti-Islam message from the hard-right activist Tommy Robinson, and hosted a hardline Hindu nationalist, Tapan Ghosh, in parliament.
Blackman said he accidentally re-tweeted the Robinson post and had not known in advance that Ghosh was being invited to last October's event.