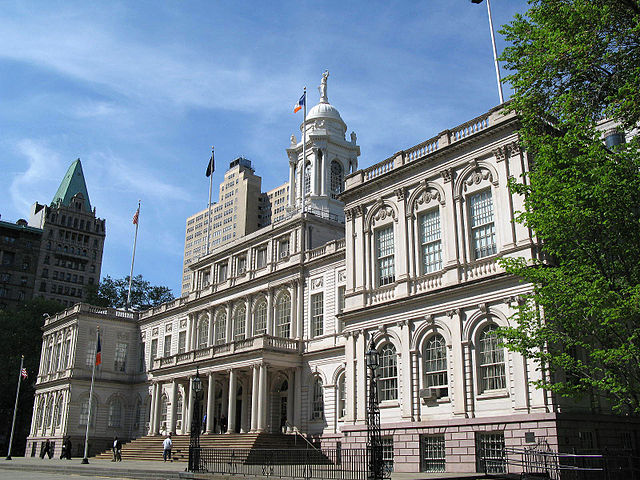 What to watch for this week in New York politics:
We're less than a month from New York's congressional primaries, to be held Tuesday, June 26. This Friday, June 1, is the deadline to register to vote to be able to vote in those primaries.
As those congressional primary races hit the home stretch, we're also now fully into campaign season for the state-level primaries that will be voted on September 13. Most party nominee designations are set for governor, lieutenant governor, comptroller and attorney general. There will be a handful of primaries for those statewide posts, assuming that candidates who plan to collect signatures to appear on the primary ballot attain the needed totals. That group includes Cynthia Nixon, who is challenging Governor Andrew Cuomo in the Democratic primary, and Zephyr Teachout, who is running for attorney general against Public Advocate Letitia James, who won the Democratic state committee's designation at last week's convention. Leecia Eve is also competing in the Democratic primary for attorney general.
Not to be overlooked, the Democratic primary challengers to the members of what was the state Senate's Independent Democratic Conference, or IDC, continue. A small handful could be competitive heading into September's vote.
Speaking of the state Legislature, the two houses are scheduled to be in session on Wednesday and Thursday this week, two of the final 13 scheduled days of session. It is unclear if the Legislature will even meet for all 13 of those days and how much, if anything, will get done before the end of session and lawmakers committing all of their time to their districts and, for many, their reelection campaigns.
As always, there's a great deal happening all over the city, with many events to be aware of – see our day-by-day rundown below.
***Do you have events or topics for us to include in an upcoming Week Ahead in New York Politics?
e-mail Gotham Gazette editor Ben Max: bmax@gothamgazette.com***
The run of the week in detail:
Monday
Monday is Memorial Day.
Tuesday
On Tuesday at 10 a.m. "New York State Senator Kemp Hannon (R, Nassau), Chair of the Senate Health Committee, and Senator Tom O'Mara (R-C-I, Big Flats), Chair of the Senate Environmental Conservation Committee, will be holding a joint roundtable discussion tomorrow on the sale and use of nonagricultural low-nitrogen fertilizer on Long Island…The discussion will include representatives of various perspectives to explore issues related to the damaging effects of excess nitrogen on the region's water quality and recently proposed legislation (S8170) which would limit nitrogen levels in fertilizer sold and applied in nonagricultural applications on Long Island."
On Tuesday at 10 a.m. in Westchester, the Assembly Committee on Corporations, Authorities and Commissions and Committee on Energy will hold a joint oversight hearing on "The power outages following recent winter snow-storms in the Hudson Valley."
At 10 a.m. Tuesday, Brooklyn Borough President Eric Adams "will introduce dozens of students from PS 327 Dr. Rose B. English to the Brooklyn Borough Hall Greenmarket, following an assembly on nutrition that he led at the Brownsville elementary school a couple weeks ago; this visit is part of Borough President Adams' ongoing mission to instill healthy eating habits in young people." At 10:30 a.m., Adams "will cut the ribbon at the grand opening of Nostrand Pharmacy, a new small business serving the Bedford-Stuyvesant community." At at noon, Adams "will attend a flag-raising ceremony with foreign dignitaries at Bowling Green that celebrates the centennial of the Republic of Azerbaijan; Brooklyn is a sister city with the Sabail district of the Azerbaijani capital of Baku, under an agreement Borough President Adams signed in 2014."
"Eastchester Bay has a long history of pollution. So a non-profit, Save the Sound, is expanding its groundbreaking water testing study into the Bronx to increase the available data on Long Island Sound's health. A water testing demonstration will be conducted dockside at Minneford Marina in City Island, Bronx on Tuesday" at 11 a.m.
At 12:15 p.m. Tuesday, Comptroller Scott Stringer will attend the UFT Retired Teachers 55th Annual Luncheon. At 6:15 p.m., Stringer and Public Advocate Letitia James will attend the Agudath Israel 96th Annual Dinner. At 7:45 p.m., Stringer will attend the Mill Island Civic Association Installation of Officers in Brooklyn.
On Tuesday at 1 p.m. outside City Hall, New York Taxi Workers Alliance "members will rally to demand that the City Council pass meaningful legislation ASAP to stop the financial crisis that has pushed five drivers to suicide in recent months. On Saturday, a body found in the East River was identified as Yu Mein Kenny Chow,…