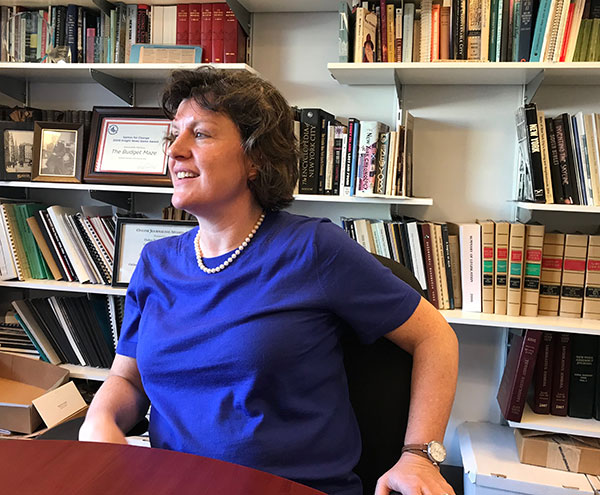 She describes herself as a "romantic about government," but former Syracuse Mayor Stephanie Miner sees a lot wrong with how it is currently being practiced in New York.
"When I think about what motivates me to be in government, it's making change and impacting public policy," Miner said on a recent episode of the Max & Murphy podcast from Gotham Gazette and City Limits, adding her contention that "real people are suffering" because of poor public policy in transit, affordable housing, and infrastructure across the state.
Miner, a Democrat who was term-limited out of office as mayor of the state's fifth biggest city at the end of last year, has for months explored the possibility of challenging Governor Andrew Cuomo in this year's gubernatorial primary election. She spent the first semester of the year teaching at NYU's Wagner School and meeting with people about her political future. Her resume also includes the fact that she was the first woman to be elected mayor of Syracuse and her time as the chair of the state Democratic Party, a position she earned in part because of support from Cuomo, who she subsequently had a major falling out with.
Time out of office has allowed her to "take a breath and look at where we are in our state and where we are in our country in terms of politics and government," she said on the podcast. In the meantime, Miner is not mincing words about Cuomo and his leadership of the state.
"For me backroom dealings and politics as usual is not serving anybody," she said on the podcast. "We have rampant corruption, everywhere we look in the state there are more and more news stories about trials, guilty pleas, guilty verdicts, more investigations, FBI's executing search warrants, and yet you have the power establishment just being silent."
She specifically referenced corruption scandals including the recent conviction of Cuomo's former top aide Joseph Percoco, who was found guilty on multiple federal corruption charges in March, as well as the "Buffalo Billion" saga in which federal prosecutors allege a handful of people involved in Cuomo's economic development project are guilty of bid-rigging. Some of those accused, including another former top aide and several major donors to Cuomo, are set to stand trial beginning in June.
She criticized Cuomo for saying he would be interviewing potential attorney general candidates in the aftermath of Eric Schneiderman's resignation after allegations he physically assaulted four women, in an apparent effort to help decide who would become the Democratic nominee. "When you have Cuomo saying he's going to quote, "interview candidates" for the attorney general vacancy spot, I think that is wrong and violates a bunch of standards in ethical practice…and that's where we find ourselves in this state," she said.
The mentality of officials, Miner said, with clear reference to Cuomo, is too often to "get the quick win,…