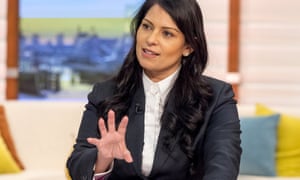 The former cabinet minister Priti Patel has called for the election watchdog to investigate spending by the remain campaign in the EU referendum.
The Brexit-backing Tory MP questioned the impartiality of the Electoral Commission and said it should either investigate Britain Stronger in Europe or end its inquiry into the Vote Leave campaign.
Her complaint follows claims relating to a video featuring the actor Keira Knightley urging people to vote. The video was published on the Britain Stronger in Europe website and Facebook page in the final days before the vote in 2016, the Sunday Telegraph reported.
Britain Stronger in Europe said Patel's complaint showed a "complete lack of understanding of electoral law" and noted that a previous complaint of Patel's had been dismissed.
The clip featuring Knightley was produced by an advertising agency, along with a series also featuring the designer Dame Vivienne Westwood and the model Lily Cole, at a total cost of more than £76,000.
The Don't F*** My Future videos were reported to have been commissioned by other campaign groups but Patel said she had "deep concerns" about collusion between remain-supporting organisations that may have allowed the official Britain Stronger in Europe campaign to breach the strict £7m spending limit.
This month the Electoral Commission fined the campaign body Leave.EU £70,000 and referred its chief executive, Liz Bilney, to the police after it found it had breached multiple counts of electoral law during the referendum. The commission also found that Leave.EU…