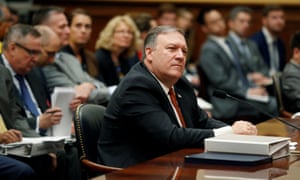 Mike Pompeo has said the US will use a summit between Donald Trump and Kim Jong-un to demand North Korea completely and rapidly surrenders its nuclear weapons programme before it receives any economic relief.
Pompeo added he was "very hopeful" the summit would still go ahead on 12 June.
The US secretary of state was speaking in Congress a day after Trump had cast doubt on the timing of the summit in Singapore, and appeared to drop the insistence of "all-in-one" unilateral disarmament before receiving any reciprocal steps from the US. Last week, a senior North Korean official said that position was not acceptable to Pyongyang, raising doubts over whether the summit would happen.
The confusion over the Trump administration's bargaining position has raised anxieties among Washington's regional allies, who are concerned the US president might concede too much in his eagerness to call the meeting a success, or resort to military action if the talks collapse.
Appearing before the House foreign affairs committee, Pompeo was asked repeatedly about his two recent meetings with the North Korean leader and what the US meant by the denuclearisation of the Korean peninsula, a goal that both parties share but which is vaguely defined.
"I can tell you what it is that President Trump has instructed me to do with respect to how we are going to proceed against North Korea," Pompeo said. "We are not going to do trade for trade. We are not going to let this drag out. We are not going to provide economic relief until some time as…