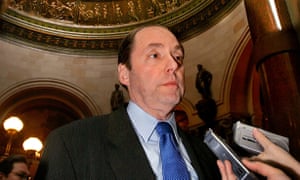 A major financial backer of Donald Trump's presidential campaign, who once owned a housing estate in which low-income tenants were said to endure "inhumane" living standards, has been nominated as the US ambassador to Belgium.
Ron Gidwitz, a 73-year-old businessman from Chicago gave Trump and other Republicans $700,000 in 2016, and acted as the presidential candidate's campaign finance chair in Illinois. He will now undergo a month in a US state department "ambassadorial school" before making the move to Brussels.
There is a certain amount of relief in Belgium that the nomination has been made at all – more than a year after the last US ambassador left the country's embassy in Brussels.
But Gidwitz could yet prove to be a controversial pick in the mould of Pete Hoekstra, Trump's ambassador to the Netherlands, who was forced to apologise over his suggestion that immigration from majority Islamic countries had created "no-go zones" in the country.
For years, a company controlled by Gidwitz and his brother Ralph owned the Evergreen Terrace housing project in Illinois, where 90% of tenants were young African-American single mothers.
In 2013, Gidwitz told a court that he would not invest in the complex as it would be equivalent to a charitable donation, and if the owners had wanted to make charitable donations, there were better options.
The housing project was eventually taken over by the city of Joliet. But in a related court case, Gidwitz was forced to acknowledge that politicians including the then senator Barack Obama had complained about "inhumane conditions" on the project, where there was said to be an overwhelming stench of urine.
Gidwitz admitted to a court in 2017 that a girl had fallen…