Indian Prime Minister Narendra Modi and the rupee face a similar predicament — old foes have re-emerged to keep them in check.
Brent crude rose above $80 a barrel last week for the first time since 2014, and is looking ominous for the nation's budget deficit, inflation and the currency. Meanwhile, Modi faces the prospect of rival parties uniting to block his re-election bid after their success at a recent state poll.
Together, elevated oil prices and political uncertainty have sent the rupee 3 percent below the year-end analyst consensus targets, and some strategists expect the currency to weaken past a 2016 record low of 68.8650 per dollar. The combination couldn't have come at a worse time, with rising Treasury yields spurring a selldown of emerging markets.
"Bouncing oil prices will add to India's inflation woes and intensify market concern over the nation's trade and current-account deficits," said Qi Gao, a Singapore-based strategist at Scotiabank. He expects the currency to head toward 69 per dollar. The forecast is in the ballpark of the 69.63-to-70 range priced in by the onshore and offshore forwards markets.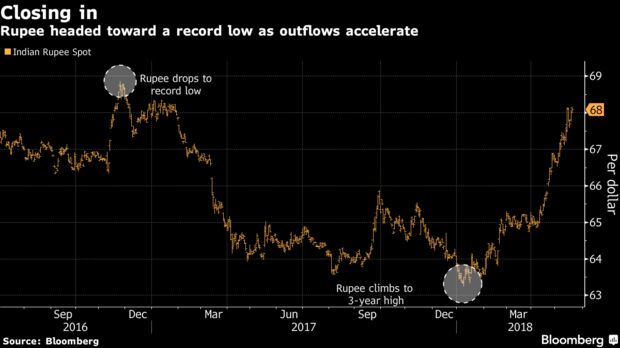 Every $10 rise in the oil price worsens India's current-account balance by 0.4 percent of GDP, pushes…