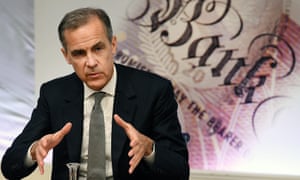 British households are more than £900 worse off after the vote to leave the EU, according to the governor of the Bank of England, in comments that risk a renewed confrontation with senior Brexit supporters in the government.
Comparing the current state of household finances with forecasts made by the Bank before the referendum, prepared on the basis of a remain vote, Mark Carney told MPs that household incomes were now significantly lower than expected.
"Real household incomes are about £900 per household lower than we forecast in May of 2016, which is a lot of money," he said, referring to the total lost growth for incomes in the two years since the 2016 referendum.
Speaking in front of the Treasury select committee of MPs, Carney also said the economy was 2% smaller than forecast before the EU referendum, despite the strength of the global economy and the Bank's emergency cut in interest rates after the Brexit vote.
That was "a reasonable difference" to forecasts for the economy made in May 2016, he added.
The governor's comments provoked angry reactions from Brexit supporters, who have previously been critical of Carney and his forecasting record.
Jacob Rees-Mogg told MailOnline Carney was "crying wolf", while Boris Johnson, speaking on a visit to Argentina, insisted Brexit had not damaged the interests of the country.
"I believe that the chancellor of the exchequer has given a definitive answer on this matter, which is that it is not the case that Brexit has…