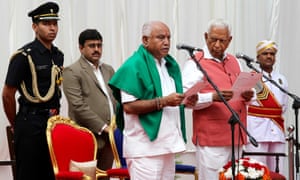 The Eagleton Resort on the outskirts of Bangalore boasts tennis courts, five restaurants and luxury suites that overlook its world-class golf course. For two days this week, it was India's nicest jail.
On Tuesday, results from a hard-fought election in south India's Karnataka state were announced, showing neither prime minister Narendra Modi's Bharatiya Janata Party (BJP), nor the incumbent Congress party, had won enough seats to govern outright.
The path to victory was clear: the BJP needed to persuade eight opposing members of parliament to defect or join its coalition.
In response, Congress and a smaller regional ally ordered at least 40 of their MPs onto buses, where they were shipped to the five-star Eagleton Resort and locked inside – beyond the reach of BJP negotiators.
Indians call it "resort politics". Since the early 1980s, it has increasingly accompanied the horse trading that follows tight elections in the world's largest democracy.
"You build a wall around your legislators so that the other party doesn't encroach on them," says BK Chandrashekhar, a Congress leader and former minister in several Karnataka state governments.
"It becomes a very dirty game of protecting people. Protecting them, but also making sure they don't escape."
The aftermath of Tuesday's hung parliament has shown Indian politics at its rawest. Congress and its ally the Janata Dal (Secular) have accused BJP of offering bribes of up to 1-billion rupees (£10m) for defections. BJP denies the allegations.
At least two MPs were reported to have gone missing, sparking rumours they are ensconced in negotiations with the BJP and would emerge as members of…