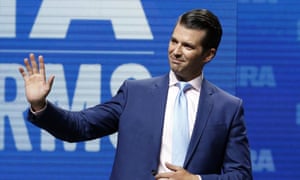 Donald Trump Jr met with an emissary for foreign governments seeking to help his father's presidential campaign three months before the 2016 election, the New York Times reported on Saturday.
Citing several anonymous sources with knowledge of the meeting, the Times said Trump Jr met at Trump Tower on 3 August 2016 with an emissary for the crown princes of Saudi Arabia and the United Arab Emirates. Also present, the paper said, were an Israeli specialist in social media manipulation, Joel Zamel, and Erik Prince, the founder of the private military contractor formerly known as Blackwater.
Zamel represented a firm that employed several Israeli former intelligence officers and specialized in data collection and social media persuasion. At the time of the meeting, the Times stated, "the firm had already drawn up a multimillion-dollar proposal for a social media manipulation effort to help elect Mr Trump".
The meeting, which the Times said was facilitated by Prince, is the first evidence that countries other than Russia sought to influence the US election in favor of Donald Trump.
The US intelligence community and the Senate judiciary committee agree that Russian election interference aimed to help Trump defeat his Democratic opponent, Hillary Clinton. The special counsel Robert Mueller is investigating that interference and alleged links between Trump aides and Moscow. Trump has repeatedly denied collusion and called the investigation a "witch-hunt".
During the Trump Tower meeting, the Times said, George Nader, the emissary for the two crown princes, indicated that leaders in Saudi Arabia and the UAE wished to help Trump. Nader, the Times said, is now cooperating with Mueller.
Under US law, the involvement of foreign governments or individuals in American elections is illegal.
It is not known if anything came of the alleged offer for assistance. The Times stated that Trump Jr responded "approvingly".
Alan Futerfas, a lawyer for Trump Jr, told the Times:…