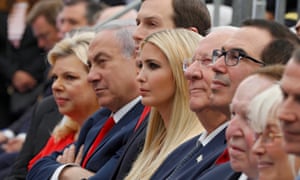 The split-screen images of Israeli and US officials smiling at the opening of the American embassy in Jerusalem, while Israel killed Gazans just miles away, reflected a striking indifference by leaders in the United States and Israel to the consequences of the occupation of Palestinian territories. And, despite the paeans that the Israeli prime minister, Benjamin Netanyahu, and the White House senior adviser, Jared Kushner, paid to the strength of the ties between the two countries, those images highlighted a rot eating away at the US-Israel relationship.
Even before the violence in Gaza and the embassy opening, on my trip to Israel last week, the duality of the US-Israel relationship was stark.
As I stood in the Golan Heights on the border with Syria, it was easy to see the value of the partnership. Just one day earlier, the Iron Dome missile defense system (developed jointly by the US and Israel) had protected Israel from rockets fired from Iranian bases in Syria.
Just a few days before, as I stood in an Israeli settlement in the Palestinian city of Hebron, it was difficult to understand how the United States can provide support for the Israeli Defense Forces (IDF) that protect Israelis committing illegal acts in taking Palestinian land – in some cases acts that are condemned even by Israeli courts.
These two experiences were emblematic of two vastly different versions of the US-Israel relationship trying – and increasingly struggling – to coexist.
One version of the US-Israel relationship is all sunshine and rainbows: deep political and military bonds between governments, extensive trade, special ties between peoples, and America's backing for the historical justice of safeguarding a democratic homeland for the Jewish people.
The other version of the relationship is one of deepening polarization in both countries: the rightwing Israeli government cozies up to US Republicans and pursues extreme policies, while American views of Israel are increasingly divided along partisan lines.
Israel wants to be judged on its thriving democracy and economy, for which it deserves real credit. But one cannot ignore Israel's military occupation of the West Bank and blockade of Gaza where a combined almost 5 million Palestinians live. Government-supported settlements in the West Bank are expanding, slowly taking over Palestinian land in what appears to be a creeping annexation.
In America, views of the Israeli-Palestinian conflict are more partisan than they've been since 1978, according to one study, which revealed that 79% of Republicans say their sympathies lie more with Israel than with the Palestinians, while only 27% of Democrats are more sympathetic to Israel. Another study revealed that, while a large majority of Democrats see Israel as a strategic asset, 55% of Democrats also see Israel as a strategic burden, and 60% of Democrats…