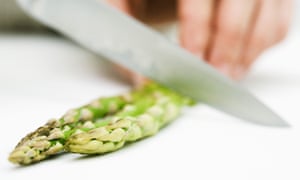 An asparagus farmer whose produce looks set to be served at Saturday's royal wedding has warned he faces going bust because of Brexit.
Kensington Palace dropped a heavy hint that the 600 guests will be offered asparagus from Andy Allen's Norfolk farm when it published pictures of his fronds being prepared by the royal kitchens.
Royal protocol prevents Allen from confirming his Portwood Asparagus farm has been chosen but he said: "We are certainly in the frame and I do know there will be a story to tell on Monday."
Supplying the royal kitchens provides a huge boost to Allen's business but he warns it will not help him plug the gap in migrant workers he needs to stay afloat after the the UK leaves the European Union.
Speaking to the Guardian, he said: "This is the best PR I could ever have had to be able to supply the royal kitchens and yet will I be able to continue to supply them? It is a huge privilege to be chosen, but it doesn't help because who is going to pick the bloody stuff?
"We are completely reliant on seasonal migrant workers. If we can't get that labour I'll have to pack up. There is not the technology to pick asparagus with robots."
Allen's fears highlight the plight of many fruit and vegetable growers who rely on the EU's free movement rules to find cheap labour for seasonal jobs shunned by British workers.
Allen employs almost 120 EU citizens, predominantly from Romania and Bulgaria. He said he was…