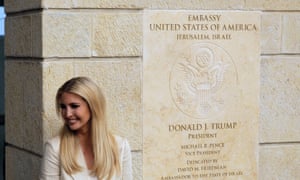 It was a historic and bloody day for Israel but also a deeply revealing moment in US domestic politics. At the opening of the American embassy in Jerusalem on Monday, a prayer and a benediction were given by two Christian evangelicals from Texas notorious for insulting other religions.
The selection of pastors Robert Jeffress and John Hagee was a sign of how for some Christians, the recognition of Jerusalem as Israel's capital is consistent with the biblical prophecy of the second coming of Jesus Christ and the beginning of the Rapture, or end times.
For others on the Christian right, it was an important show of solidarity with the hardline Israeli prime minister, Benjamin Netanyahu.
But it was also illustrative of how central the evangelical constituency has become to Donald Trump's support. And the daily barrage of scandals around the US president – including an alleged affair with the pornographic film actor Stormy Daniels – has done nothing to shake their faith.
Indeed, a survey last month by the Public Religion Research Institute (PRRI) found that white evangelical support for Trump is at an all-time high, with three in four holding a favourable view of the president. This level of support was well above support in the general population, where Trump's favourability is at 42%.
Frank Luntz, a Republican consultant and pollster, said: "They acknowledge there are issues with him but it's his willingness to fight against their enemies that makes them so supportive."
Such voters typically back Republicans because of their conservative views on social issues such as abortion rights and homosexuality.
During the 2016 Republican primary campaign, many initially flocked to Senator Ted Cruz…