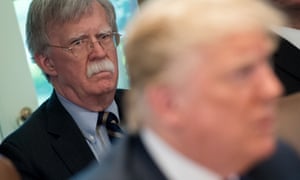 Donald Trump is prepared to impose sanctions on European companies that do business in Iran following his withdrawal of the US from the international nuclear deal, his administration reiterated on Sunday.
Trump's most senior foreign policy aides signalled that the US would continue pressuring allies to follow Washington in backing out of the pact, which gave Tehran relief from sanctions in exchange for halting its nuclear programme.
John Bolton, Trump's national security adviser, predicted that "the Europeans will see that it's in their interests to come along with us" rather than continue with the 2015 deal, under which major European corporations have signed billions of dollars of contracts in Iran.
Asked on CNN's State of the Union whether that meant the Trump administration would impose sanctions against those firms, Bolton said: "It's possible. It depends on the conduct of other governments."
US sanctions on Iran reimposed following Trump's withdrawal not only block American firms from doing business in the country, but also bar foreign firms that do business there from accessing the entire US banking and financial system.
Mike Pompeo, Trump's secretary of state, said on Sunday wealth created in Iran under the terms of the nuclear deal "drove Iranian malign activity" in the region. He declined to rule out sanctions against European firms.
"The sanctions regime that is in place now is very clear on what the requirements are," Pompeo said on Fox News Sunday.
Trump's decision to scrap the nuclear deal was sharply criticised by European leaders, who have pledged to uphold their side of the agreement.
Alarm has been particularly high in France, whose energy giant Total last year signed a $5bn deal to extract Iranian natural gas. Airbus, the French-based plane manufacturer, has already begun delivering jets to Iran Air under a multi-billion dollar contract.
Volkswagen, the German automaker, has resumed exporting cars to Iran. Richard Grenell, the new US ambassador to Berlin, warned this…