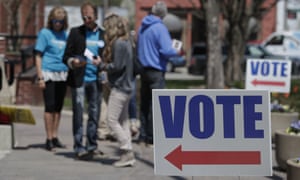 Women take over ballots
First they marched, now they're running. And winning too.
Female candidates dominated in the first multi-state Democratic congressional primaries of the 2018 midterms. Out of 20 open primaries with women on the ballot on Tuesday night, voters selected a female nominee in 17 of them.
The development is only fitting after women orchestrated the opening salvo of the national post-Trump resistance, bringing tens of millions into the streets the day after the inauguration for the Women's March. In the aftermath there has been a deluge of women intent on channeling that energy into political candidacy. Emily's List, a women's candidacy advocacy group reported a more than 20-fold increase in inquiries from women interested in running after Trump's election.
According to Politico's Women Rule candidate tracker, 599 women nationwide have run or have said they'll run for US House, Senate or governor in 2018. Of the more than 100 who have already stood for primaries this year, 56% have won so far.
Women currently occupy just 20% of seats in Congress despite making up half of the US population.
Most of the winning Democratic candidates from Tuesday are facing an uphill climb in the November general elections, as nearly all are in districts that Republicans are heavily favored to win, but it's still representative of a shifting candidacy landscape. A number of women also stood for Republican nominations on Tuesday but they did not fare as well as Democratic women, winning less than half the seats they competed for.
House races aren't the only places women are making huge imprints on the ballot. In Georgia's 22 May gubernatorial primary, voters will be choosing between one of two Democratic Staceys – Stacey Evans and Stacey Abrams. Either would be the first female executive…