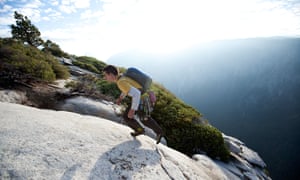 Alex Honnold was stuck in traffic.
The world's most renowned rock climber was due on Capitol Hill for a US Senate reception with other top climbers from around the country, who had descended en masse on Washington to lobby for greater protections for public lands.
Honnold, the subject of an upcoming film documenting his ropeless climb last year of the 3,000ft El Capitan in Yosemite Valley, had run out for a quick meeting with the National Park Service. But then he hit Washington's notorious rush hour.
"It's taking Alex longer to get here from the Department of the Interior than it takes him to climb El Cap," quipped Phil Powers, CEO of the American Alpine Club, which organized the climbers' lobbying event with the not-for-profit Access Fund.
Galvanized by the rollback of public lands by the Trump administration, and empowered by the roaring growth of the outdoor recreation industry, organizers had invited the athletes to Washington for a day of meetings with members of Congress and agency heads.
In 62 separate meetings, 13 teams of athletes and advocates made their ask of politicians and regulators: protect public lands by supporting funding for things like land and water conservation, firefighting, research and staffing. Resist future attempts to remove federal protections from public lands. And support the sensible acquisition of new public lands to preserve irreplaceable ecosystems.
While the outdoor industry has lobbied legislators along similar lines for years, the Trump administration's decision last year to radically shrink Bears Ears national monument and halve the Grand Staircase-Escalante monument has sharpened focus on what is at stake.
"The political climate around outdoor recreation and public lands has changed dramatically in just the last year," Brady Robinson, executive director of the Access Fund, told the Guardian.
So the call went out to California, Colorado, Washington state, Utah, New Hampshire and other outdoor playgrounds. And on Thursday, some of the biggest names in rock climbing turned up in a hearing room in the Russell Senate office building, which was suddenly filled with backpacks by Patagonia, North Face, Osprey, Burton and Jansport, rather than briefcases.