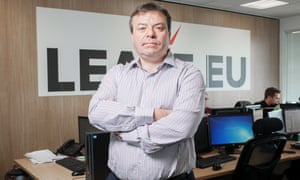 Leave.EU has been fined £70,000 and its chief executive has been referred to the Metropolitan police after the Electoral Commission found it had breached multiple counts of electoral law during the referendum to leave the European Union.
The investigation found that Leave.EU, which was co-founded by Arron Banks, unlawfully exceeded its statutory spending limit by at least 10% and delivered incomplete and inaccurate spending and transaction returns.
The group campaign chief, Liz Bilney, one of Banks's closest associates, faces a police investigation. The commission said it had reasonable grounds to suspect she "knowingly or recklessly signed a false declaration accompanying the Leave.EU referendum spending return".
Banks responded by accusing the commission of a "politically motivated attack on Brexit" and threatened to take legal action.
Scotland Yard confirmed the commission had referred a potential criminal offence under section 123(4) of the Political Parties, Elections and Referendums Act 2000.
A spokeswoman said: "This matter will be subject to assessment by officers from the special enquiry team."
The commission said the "unlawful overspend" was at least £77,380 but may well have been considerably higher.
It said services the group received from the US campaign strategists Goddard Gunster before the referendum officially began were not included in the spending return despite a proportion of them having been used during Leave.EU's referendum campaign.
The commission also found that Leave.EU inaccurately reported three loans it had received from companies controlled by Banks.
It added: "This included a lack of transparency and incorrect reporting around who provided the loans, the dates the loans were entered into, the repayment date and the interest rate.
"Finally, Leave.EU failed to provide the required invoice or receipt for 97 payments of over £200, totalling £80,224."
However, the commission found no evidence that Leave.EU received donations or paid-for services from Cambridge Analytica for its referendum campaigning and found that the relationship with the political campaign agency "did not develop beyond initial scoping work".
The investigation instead concluded that Cambridge Analytica, which collapsed this month after a global scandal about its…