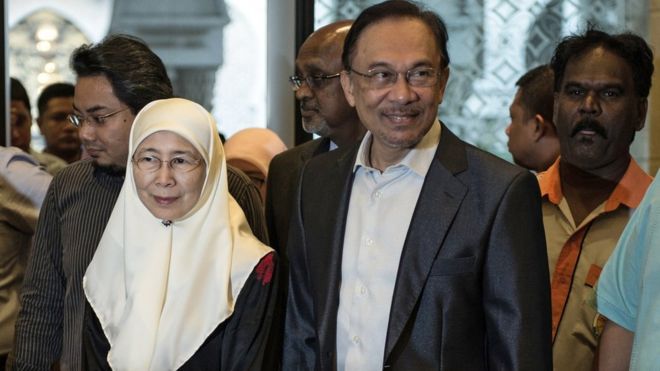 Malaysia's king has agreed to pardon a politician whose case has gripped national politics for two decades, says new PM Mahathir Mohamad.
Anwar Ibrahim, once considered a potential future leader, was jailed on charges of corruption and sodomy after falling out with the government.
But Mr Mahathir, the PM under which he was first jailed, just won an election on a pledge of freeing him.
He has indicated he will hand power to Anwar within a few years.
At a news conference on Friday – a day after his historic election win – Mr Mahathir said the king "has indicated he is willing to pardon Datuk Seri Anwar immediately", using an honorific title.
"It is going to be a full pardon which of course means that he should not only be pardoned, he should be released immediately when he is pardoned. After that he will be free to participate fully in politics."
Anwar's wife, Wan Azizah, said the king wanted to grant the pardon as soon as possible and "if the director of prisons is satisfied… then [Anwar] may be released in two to three days".
Mr Mahathir's election win, at the head of the Pakatan Harapan, ended more than six decades of rule by the Barisan Nasional (BN) coalition.
Both he and Anwar were formerly in power, as part of the BN, as prime minister and deputy respectively. The story of their relationship is one of extraordinary twists and turns.
Anwar was sacked in 1998 after a dispute with the coalition leadership and then led huge…