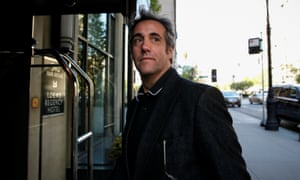 The disclosure that Donald Trump's legal fixer Michael Cohen was quietly paid hundreds of thousands of dollars to advise corporations highlights the inability of US laws to prevent secretive "shadow lobbying", analysts said.
Companies such as the telecoms giant AT&T and Novartis, a major pharmaceuticals firm, confirmed they paid Cohen, the president's personal attorney, large sums last year in return for what they describe as guidance on navigating the new administration.
As Cohen said he provided consultancy services rather than lobbying, which involves directly advocating for a client to government officials, he was not required under US law to register as a lobbyist and disclose the payments in public filings.
Cohen and his attorney, Stephen Ryan, did not respond to requests for comment on the arrangements.
Federal authorities in New York have said Cohen, 51, is the subject of a criminal investigation relating to his personal business and financial affairs. No allegation has been made relating to Cohen's consultancy work.
Professor James Thurber of American University, who has researched lobbying for decades, said it was too easy for influential people in Washington to make money around the legislative process without informing the public, in what is loosely termed shadow lobbying.
"If someone is trying to influence government policy and is getting paid for it, they should register," said Thurber, who said that as well as being fundamentally weak, the Lobbying Disclosure Act was also not enforced aggressively enough.
The 23-year-old law states that anyone who spends 20% of their time lobbying in a three-month period, and is paid to lobby public officials twice or more, must register as a lobbyist and identify their clients. Ethics experts have consistently said this language makes it too easy to technically avoid that threshold.
"You get paid to tell the client how to lobby, or what the important people are thinking, or who to call on what topic," said Daniel…