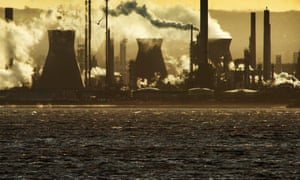 Britain's manufacturers have called on the government to make faster progress on its industrial strategy to help address a slump in productivity in key sectors.
The EEF said an independent industrial strategy council – promised by the business secretary, Greg Clark, in last autumn's white paper – should be created immediately and given the "urgent task" of setting clear goals for boosting Britain's manufacturing performance.
The employers' organisation said growth in manufacturing productivity, or output per hour worked, had fallen from 4.7% a year on average between 2000 and 2007 to 1% a year on average since 2008 – but said there had been big variations between different sectors of industry.
In a study comparing the UK with three other EU countries – Germany, Spain and Italy – the EEF found that Britain's chemicals sector was becoming more competitive but that the pharmaceuticals sector had lost ground since 2008.
Clark's white paper received a tepid welcome from industry lobby groups after its publication last year. The Chartered Institute for Personnel and Development said the level of investment and ambition, "particularly relating to skills and how they are used in the workplace, is inadequate, given the scale of the productivity challenge facing the UK".
The Institute of Directors called the white paper a "big first step" while the TUC, the…