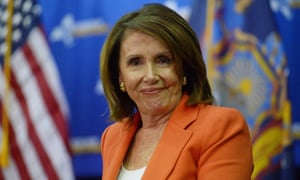 Nancy Pelosi has a simple message for Democrats running for Congress this fall: "Just win, baby."
The House minority leader said Democrats running in conservative House districts across the country should do what they must to win – including running against her.
"I think if they have to do that to win the election, I'm all for winning," Pelosi said in an interview with Politico Playbook on Tuesday. "I think many of them are saying we need new leadership. I don't take offense at that."
Pelosi, who served as the first female speaker of the House from 2007 to 2011, has increasingly become a target for Republicans as more visible party leaders such as Barack Obama and Hillary Clinton receded from the public spotlight.
Already this year Republicans have spent millions of dollars in attack ads and messaging focused on Pelosi. Republicans seized on her comments that corporate bonuses of $1,000 paid to workers from the $1.5tn GOP tax plan amounted to "crumbs" and have hammered Democratic candidates by accusing them of being Pelosi acolytes.
"I have made some very powerful enemies," Pelosi said, explaining how she became a liberal bogeyman for the Republican party..
Republicans "don't say we're against her because she passed healthcare reform, or because she took on Wall Street," she said. "They say she's [from] San Francisco. Yes. She's liberal. Yes. She's pro-LGBTQ. Yes. You will be, too. It's just a matter of time."
A recent Washington Post-ABC poll found 32% of Americans had a favorable view of her while…