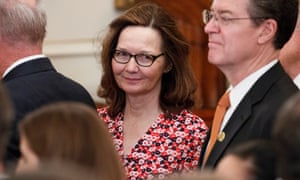 Gina Haspel, Donald Trump's nominee to lead the CIA, offered to withdraw her nomination, two senior administration officials said on Sunday, amid concerns that a debate over a harsh interrogation program would tarnish her reputation and that of the CIA.
On Friday, as White House officials prepared Haspel for a confirmation hearing on Wednesday, aides sought additional details about her involvement in the CIA's now-defunct program of detaining and brutally interrogating terror suspects after 9/11, a program that involved techniques widely condemned as torture.
That was when Haspel offered to withdraw, the officials said. They said the acting director of the CIA was reassured that her nomination was still on track. The officials spoke on the condition of anonymity. The news was first reported by the Washington Post.
Haspel, who would be the first woman to lead the CIA, is the first career operations officer to be nominated to lead the agency in decades. She served almost entirely undercover and much of her record is classified.
Democrats say…