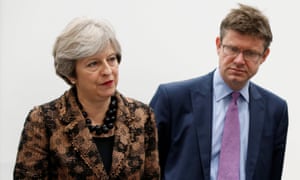 Tory Brexit moderates and business groups have made a last-ditch attempt to push for Theresa May's preferred customs plan, with the business secretary warning that thousands of jobs would be at risk unless there is frictionless trade.
Greg Clark dismissed the idea that the prime minister's idea for a customs partnership – in which the UK would collect import duties on behalf of the EU – had been rejected at a meeting last week of May's Brexit inner cabinet.
Clark, one of May's key allies on the issue, said thousands of car industry jobs could be lost unless firms could rely on instant deliveries of parts from the EU. The CBI and British Chambers of Commerce (BCC) then both rushed out supportive statements.
While a Downing Street source dismissed as "complete nonsense" the idea that this amounted to a coordinated campaign ordered by No 10, there were clear signs of a moderate Tory fightback against the influence of hard Brexiters in the cabinet and on the Conservative backbenches.
Jacob Rees-Mogg, the head of the latter group, reiterated his warnings to May not to water down departure from the customs union, saying it would be "very odd" for her to push for the customs partnership.
In contrast, the former education secretary Justine Greening said hardline Brexiters, including those in the cabinet, must make some compromises or risk alienating a generation of young voters by pushing through an economically damaging deal.
A meeting of May's Brexit inner cabinet on Wednesday broke up without agreement but apparently with a narrow majority against her preferred option.
With no new meeting of the Brexit cabinet yet scheduled, discussions could resume at the full cabinet on Tuesday. Brexiters are pushing for a maximum facilitation model, or "max fac", which would use technology to minimise border checks. The EU has rejected both this and May's preferred plan as unworkable.
Clark, speaking on BBC1's Andrew Marr Show, denied May's plan was no longer an option, saying the Wednesday gathering had been "a much more professional, collegiate discussion than…