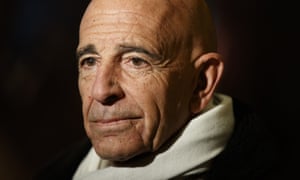 Investigators working for special counsel Robert Mueller have interviewed one of Donald Trump's closest friends and confidants, California real estate investor Tom Barrack, the Associated Press has learned.
Barrack was interviewed as part of the federal investigation of possible coordination between the Trump campaign and Russia in the 2016 election, according to three people familiar with the matter who spoke on condition of anonymity. The topics covered in questions from Mueller's team were not immediately clear.
One of the people who spoke said the questioning focused entirely on two officials who have been indicted by Mueller: former campaign chairman Paul Manafort and his longtime deputy, Rick Gates. Gates agreed to plead guilty to federal conspiracy and false-statement charges in February and began cooperating with investigators. Manafort maintains his innocence on financial charges.
This person said Barrack was interviewed "months ago" and was asked a few questions about Gates' work on Trump's inaugural committee, which Barrack chaired, and but there were no questions about money raised by that committee.
A second person with knowledge of the Barrack interview said the questioning was broader and did include financial matters about the campaign, the transition and Trump's inauguration in January 2017. Barrack's spokeswoman, Lisa Baker, declined comment.
Barrack has rare access and insight into Trump going back decades. He played an integral role in the 2016 campaign as a top fundraiser when many Republicans…