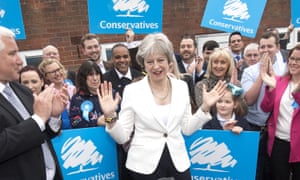 Jeremy Corbyn and Theresa May both sought to put a brave face on local council results that suggested neither can break the electoral deadlock that delivered a hung parliament last June.
For Labour, setbacks in the Midlands and a failure to live up to sky-high expectations in the capital, where it had set its sights on Wandsworth and Westminster, took the shine off an unexpected victory in Plymouth.
Corbyn told Labour supporters the results showed his party was "ready for a general election whenever it comes", and insisted, "there's much more to come and it's going to get even better".
He added: "Obviously, I am disappointed at any places where we lost a bit of ground, but if you look at the overall picture, Labour gained a lot of seats across the whole country, we gained a lot of votes in places we never had those votes before."
The Conservatives took control of councils in Basildon and Peterborough; but lost Trafford, in Greater Manchester, and the Mole Valley.
The BBC's projected national share of the vote, which uses the results in local elections to estimate the parties' standing across the country, put Labour and the Conservatives neck-and-neck, on 35% apiece.
The prime minister toured areas where the Conservatives had made gains – or seen off Labour's advance. Greeted by cheering supporters in Wandsworth, she said: "Labour thought they could…