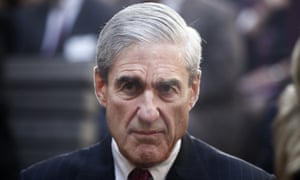 Robert Mueller, the special counsel investigating Russian interference in the US election, wants to ask Donald Trump about contact between his former election campaign manager Paul Manafort and Russia, the New York Times reported on Monday.
The paper said it had obtained a list of nearly 50 questions that Mueller, investigating Russian meddling in the 2016 presidential election, wants to put to the US president. More than half relate to potential obstruction of justice.
"What knowledge did you have of any outreach by your campaign, including by Paul Manafort, to Russia about potential assistance to the campaign?" is one of the more dramatic questions published by the Times.
The pointed reference to Manafort breaks tantalising new ground, since there was no previous evidence linking him to outreach to Moscow. Benjamin Wittes, a senior fellow at the Brookings Institution thinktank in Washington, tweeted: "This is very interesting – strong evidence that there are still collusion threads that are not yet public."
Manafort and his deputy, Rick Gates, pleaded not guilty last October to a 12-count indictment accusing them of conspiring to defraud the US by laundering $30m from their work for a Russia-friendly political party in Ukraine.
Mueller recently supplied Trump's lawyers with 10 pages of questions. They offer a dramatic insight into the special counsel's mind and make clear that Trump is a subject, not a mere witness, in the investigation. It is not yet known whether the president will agree to be interviewed.
Trump responded by Twitter on Tuesday, complaining about the leaking of the questions and claiming falsely there were "No questions on Collusion". He added: "Oh, I see … you have a made up, phony crime, Collusion, that never existed, and an investigation begun with illegally leaked classified information. Nice!"
He tweeted later: "It would seem very hard to obstruct justice for a crime that never happened! Witch Hunt!"
One batch of questions relates to alleged coordination between the Trump election campaign and Moscow. Donald Trump Jr's June 2016 meeting at Trump Tower in New York with a Russian lawyer who promised damaging information about rival Hillary Clinton is…