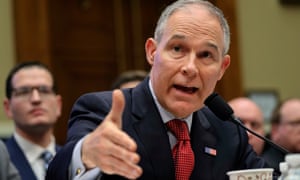 Two top aides have resigned from the Environmental Protection Agency (EPA) amid a growing series of federal ethics investigations, Scott Pruitt, the agency chief, announced on Tuesday.
In response, Don Beyer, a Democratic congressman from Virginia who has pushed for investigations of ethical problems under Pruitt, said the administrator "should be the next to go".
In statements, Pruitt gave no immediate reasons why the security chief, Pasquale "Nino" Perrotta, and Superfund manager, Albert Kelly, were leaving. EPA spokespeople Jahan Wilcox and Liz Bowman did not immediately respond to questions about whether the departures were related to federal investigations.
Pruitt's spending on security, and some of the security contracts with Perrotta, are among the subjects of more than a dozen federal investigations involving the EPA under Pruitt, a former Oklahoma attorney general.
Pruitt said Perrotta was retiring, and praised what he described as Perrotta's…