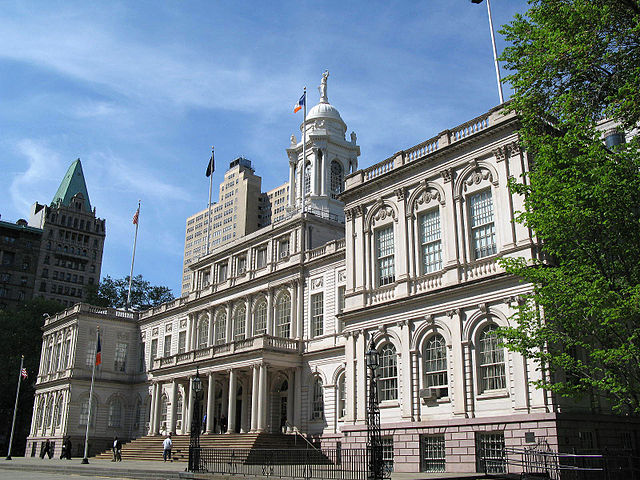 What to watch for this week in New York politics:
This week we're continuing to dissect Mayor Bill de Blasio's recently-released $89 billion Executive Budget plan for fiscal year 2019, which begins July 1. The de Blasio administration and the City Council now enter another round of Council hearings on the budget as well as behind-the-scenes negotiations, rallies, and other methods of seeing the next city budget include or ommit certain priorities. [Listen to the latest episode of What's The [Data] Point? for a full breakdown of de Blasio's budget proposal and key issues at play as negotiations heat up]
There are three days of legislative session in Albany this week, with less than two months to go in the Albany government year, which is scheduled to end mid-June. It's unclear how much will get done given it is a state election year and Senate Republicans, who control the chamber by a one-seat margin, have little incentive to say "yes" to anything that Governor Andrew Cuomo or the state Assembly, which is controlled by Democrats, wants to see passed this session.
Cuomo spent Friday rallying for a Democratic state Senate, by backing Anna Kaplan in Senate District 7, and Sunday on a day trip to Puerto Rico, where he continued to enhance New York's efforts to support the island's recovery from Hurricane Maria. The governor is, of course, at the center of a re-election campaign and this week is sure to see continued campaigning by his main Democratic primary opponent, Cynthia Nixon, and the presumptive Republican nominee Marc Molinaro, the Dutchess County Executive.
There are a variety of events to be aware of this week – see our day-by-day rundown below.
***Do you have events or topics for us to include in an upcoming Week Ahead in New York Politics?
e-mail Gotham Gazette editor Ben Max: bmax@gothamgazette.com***
The run of the week in detail:
Monday
On Monday at 4:30 p.m. at City Hall, "Mayor de Blasio will hold a public hearing for the following eleven bills that aim to reduce workplace sexual harassment: Intro. 612-A requires annual anti-sexual harassment training at City agencies; Intro. 613-A requires assessing workplace risk factors associated with sexual harassment within City agencies; Intro. 614-A mandates information about sexual harassment to be made available online for public access; Intro. 630-A creates an "Anti-Sexual Harassment Rights and Responsibilities" poster; Intro. 632-A mandates anti-sexual harassment training for private employers; Intro. 657-A expands sexual harassment protections to all employees; Intro. 660-A makes improvements to clarify and strengthen the City's Human Rights Law; Intro. 663-A changes the City's Human Rights Law statute of limitations for sexual harassment to three years; Intro. 664-A relates to climate surveys and action plans to combat sexual harassment; Intro. 653-A mandates annual reporting on workplace sexual harassment within City agencies and; Intro. 693 relates to the Division of Labor Services employment reports. The Mayor will also hold a public hearing and sign Intro. 241-B that establishes a Charter Revision Commission."
In the evening, de Blasio will appear on NY1's Inside City Hall during the 7 and 11 p.m. hours.
At 6:30 p.m. Monday at Gracie Mansion, First Lady Chirlane McCray "will deliver remarks at the annual Mayoral Service Recognition Ceremony honoring over 400 New Yorkers and over two dozen businesses for outstanding volunteer service in 2017."
On Monday, city schools "Chancellor Richard A. Carranza will visit classes and attend a music and dance performance at MS 137 America's School of Heroes in Queens" at 10:30 a.m. "In the afternoon, he will host town hall events" at 4 and 5:30 p.m. at PS 131 Abigail Adams School in Queens.
At the City Council on Monday:
–The Committee on For-Hire Vehicles will meet at 9:30 a.m. to discuss proposed laws relating to "the waiver of licensing fees for accessible taxi-cabs and for-hire vehicles" and "the licensing and regulation of app-based for-hire transportation services and vehicles."
–The Committee on Fire and Emergency Management will meet at 9:30 a.m. for an oversight hearing "evaluating emergency service needs in response to population shifts" as well as to discuss several proposed laws relating to reporting on the effects of rezonings on FDNY operations.
–The Committees on Education and Civil Service & Labor will meet jointly at 1 p.m. for an oversight hearing regarding "paid parental leave for New York City municipal employees" as well as two resolutions, one "calling upon New York City to extend paid family leave benefits to city employees covered by municipal unions" and the other "calling upon the New York State Legislature to pass, and the Governor to sign, legislation to amend the state Paid Family Leave Act to provide workers in New York State with a benefit equal to 100 percent of an employee's average weekly wage."
–The Committee on Parks and Recreation will meet at 1 p.m. for an oversight hearing regarding the "permitting process for the use of athletic fields at parks."
At 8 a.m. Monday, members of the Independent Drivers Guild will rally at City Hall to protest Intro. 838, a proposed city law that would create a $2,000 annual fee for for-hire drivers and prohibit them from driving for more than one company, which is being heard at the aforementioned City Council meeting of the for-hire vehicle committee.
The New York State Legislature will be in session on Monday in Albany. Including Monday, there are 24 scheduled session days left this year, with three this week, before the June 20 end…