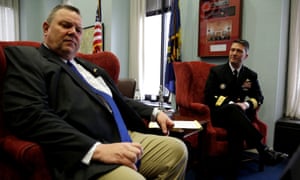 Donald Trump has called for the resignation of Jon Tester, the Democratic senator who released details of allegations against Ronny Jackson, the White House doctor who withdrew his nomination to be secretary of veterans affairs.
"Allegations made by Senator Jon Tester against Admiral/Doctor Ron Jackson are proving false," the president tweeted. "The Secret Service is unable to confirm (in fact they deny) any of the phony Democrat charges which have absolutely devastated the wonderful Jackson family. Tester should resign."
Before playing golf in Virginia on Saturday morning, Trump added a shot aimed at voters in Montana, where Tester will run for a third term in November against an as yet undecided Republican. The GOP primary, on 5 June, will feature one candidate who has hired an aide who lied about the assault of a Guardian reporter by congressman Greg Gianforte in 2017.
The Senate majority whip, John Cornyn, said on Thursday Tester had "poked the bear", inviting Trump to intervene in a state he won by 20 points in 2016. On Saturday morning Trump duly growled, writing: "The great people of Montana will not stand for this kind of slander when talking of a great human being.
"Admiral Jackson is the kind of man that those in Montana would most respect and admire, and now, for no reason whatsoever, his reputation has been shattered. Not fair, Tester!"
After his outing to his golf club in northern Virginia, Trump returned to the offensive, comparing the allegations against Jackson to the Russia investigation by special counsel Robert Mueller. "Secret Service has just informed me that Senator Jon Tester's statements on Admiral Jackson are not true," he wrote. "There were no such findings.
"A horrible thing that we in DC must live with, just like phony Russian Collusion. Tester should lose race in Montana. Very dishonest and sick!"
Jackson's nomination to run the sprawling VA came after he delivered a glowing endorsement of Trump's health. His nomination immediately attracted criticism, given his lack of relevant bureaucratic experience.
Tester is the ranking Democrat on the Senate veterans…