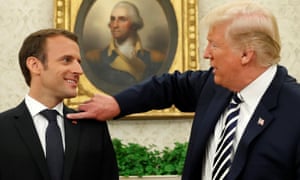 It is safe to assume that the Oval Office had never before witnessed the practice of dandruff diplomacy. Donald Trump, standing beside Emmanuel Macron, told reporters: "Mr President, they're all saying what a great relationship we have, and they're actually correct," he said. "It's not fake news." The French leader grinned. Then, with unexpected intimacy, Trump reached for Macron's shoulder. "In fact, I'll get that little piece of dandruff off; you have a little piece. We have to make him perfect. He is perfect."
That night, TV host Stephen Colbert observed: "Mr President, Macron is still standing next to you, smiling, after hanging out with you for two days. That's not dandruff – that's cocaine." But while many Americans rolled their eyes at 71-year-old Trump's silverback impression, no less striking was the impeccable response of Macron, 40, graciously laughing along with the joke and giving no hint of being thrown off his game.
Indeed, during the first state visit of the Trump presidency, the Frenchman offered a masterclass in how to play this most skittish of commanders-in-chief. Tactile and tactful, he established himself firmly in the front rank of Trump's favourite leaders alongside Japan's Shinz? Abe, Israel's Benjamin Netanyahu, Saudi crown prince Mohammed bin Salman, China's Xi Jinping and, most cryptically, Russia's Vladimir Putin.
Notably all are men and, in style or substance, strongmen. That bodes ill for Theresa May, who will host Trump in July, and the German chancellor, Angela Merkel. The women lead fragile coalition governments, likely to be a sign of weakness in this US president's eyes, and have proved unable, or unwilling, to flatter his ego.
The contrast in body language was brutal on Friday when Merkel paid a lower-key visit and held a joint press conference. Behind the same lecterns in the East Room, Trump and Macron shared a man hug with the US president declaring, "I like him a lot." Trump and Merkel engaged only in stiff handshakes. As they departed, Trump put his hand towards her back but did not touch.
During the question and answer session, Trump rambled about how "Washington can be a very mean place; you don't know about that, chancellor", and joked about how quickly people in Germany can get fired. Merkel's chilly reaction – eyebrows raised, a frown, a grimace, a forced half-smile – raised the question of how she would have reacted to the dandruff move.
How to handle Trump's improvisational, barely briefed approach to global affairs has been a puzzle for world leaders. "I think he wants to be liked," said one western diplomat, who attended a meeting between Trump and his own country's leader. "You've got to strike up a rapport, find some kind of common ground, find something that gets him in a positive frame of mind."
The diplomat, who did not wish to be named, observed how Trump sees foreign policy through the prism of relationships. "I would say personal rapport is probably more important with him than it would be with a more conventional president. The idea that getting on with someone is what's crucial to the outcome of the discussions wouldn't normally be the way people see it. But he's inclined to see it as a question of personal chemistry. Even this Putin stuff, a lot of it is, 'I think I get on with him, I think I could deal with him.'
"It's a belief in his personal responsibility to shape things in his favour. As a businessman, as a dealmaker, as someone who's been involved in real estate deals all his life, I think those kind of personal relationships he builds up are important to him, so I wouldn't undervalue it all. But whether it produces the goods in the case of Macron, let's wait and see."
The 'Trump whisperers'
There has been keen competition for the role of "Trump whisperer". A White House source said Macron and Abe, the prime minister of Japan, have spoken to the president by phone more often than any other leader. Abe was the first suitor at Trump Tower after the 2016 election, giving the president-elect a $3,800 golden golf club. He followed up at Trump's luxury Mar-a-Lago estate in Florida soon after. When the American president reciprocated with a visit to Japan, he was treated to a state dinner, a white hat embroidered with "Donald & Shinzo, Make Alliance Even Greater" in gold thread and a round of golf.