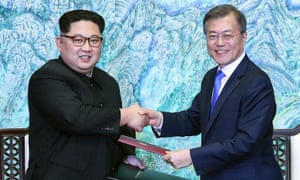 It was a historic moment replete with grand pledges and theatrical gestures of friendship. A North Korean leader crossed into the South for the first time since the Korean war, which halted 65 years ago with an armistice but no peace treaty. At the demilitarised zone, a strikingly confident, buoyant Kim Jong-un received not just a handshake but a hug from his counterpart, Moon Jae-in; and took his hand to draw him into the North briefly.
"The two leaders solemnly declared before the 80 million Korean people and the whole world that there will be no more war on the Korean peninsula and thus a new era of peace has begun," the joint declaration said. It vowed to pursue talks to declare a formal end to the war, turning the armistice into a peace treaty and establishing a permanent and solid peace regime.
All this is welcome, especially given that Donald Trump is due to meet Mr Kim next month. But it looked good in part because things have been so bad. Only a few months ago, North Korean missile tests and Mr Trump's threats of "fire and fury" caused alarm across the region.
In fact, the images of the smiling North and South Korean leaders holding their joined hands aloft were almost identical to those of Mr Kim's father and Mr Moon's predecessors at summits in 2000 and 2007. Mr Kim nodded to that: "Rather than create results we won't be able to…