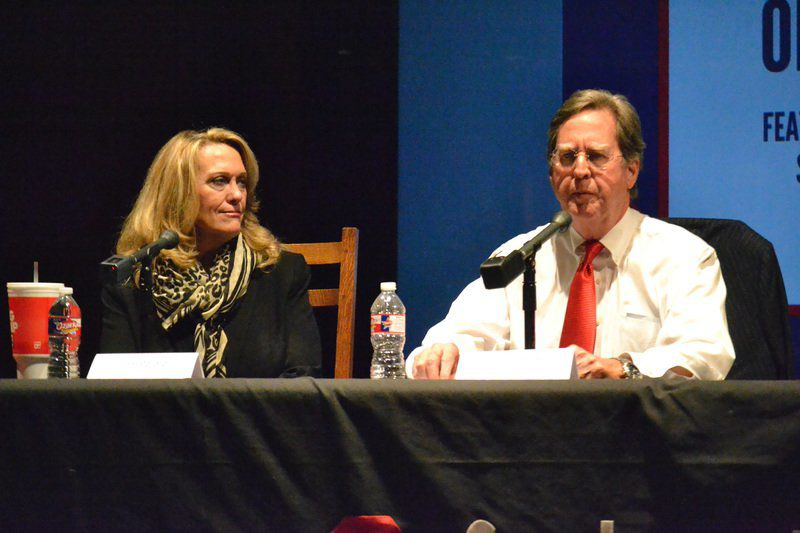 NORMAN — Some of Oklahoma's political elite took to the stage Tuesday to talk about the future, particularly the upcoming elections.
"From Blue to Red: Evolution of Oklahoma Politics" was presented by the OU Daily inside the Gaylord College of Journalism. Former governor and current OU Regent Frank Keating, former Tulsa mayor Dewey Bartlett, Oklahoma Republican Party Chair Pam Pollard and political reporter for the Journal Record Catherine Sweeney provided insight.
Questions were raised by the audience and on social media about the future of Oklahoma politics and what to expect from the upcoming elections. The panel was organized in conjunction with an article by the same name written by Nick Hazelrigg and Abby Bitterman, detailing the change in Oklahoma's politics, which used to be dominated by Democrats.
Keating was a fitting member of the panel, then, since he served as a Republican governor with a Democrat-majority legislature. He said it is just as important now for all sides to discuss and find common ground as it was when he was in office.
"It's important to have all sides of an argument sitting around a table to debate and to listen to each other," Keating said. "Since then, we've built up walls."
The panel took on issues that are coming up at a time when Oklahoma seems to be shifting politically. For example, the governor's race is expected to be, at the very least, more competitive now that it was four years ago.
Bartlett said one reason for that is there is no incumbent running.
"The main reason it's going to be competitive is it's an open seat," Bartlett said. "That really gets everyone's attention who is wanting to run for office and extend a career. There's a variety of people running, and it's a good variety of experience, philosophy, and interests, both Republican and Democrat. It's going to be interesting to see how this shapes out."
Sweeney had a similar take, saying that what she hears from campaign consultants is there tends to be a swing away from the ruling party in these cases. It all comes down to energizing voters.
"One of my favorite Republican consultants talks about how a new president tends…