From caviar chosen in bad taste to presidents throwing up, food has over the years played a considerable part in diplomatic get-togethers.
World leaders and politicians often work long hours, negotiate difficult situations, spend a lot of time talking to people and maybe even have a few sleepless nights. But certainly, like the rest of us, they always have to eat.
There are two big meetings between leaders this week and a lot of thought has gone into the menus.
North Korea's Kim Jong-un is meeting South Korean President Moon Jae-in in the first talks between the two countries' leaders since 2007. A flat sea fish to remind Mr Moon of his hometown port city of Busan will be served, but so too will Swiss rösti, a nod to the school years Mr Kim is said to have spent in Switzerland.
Over in the US, French President Emmanuel Macron is making the first state visit by a foreign leader under Donald Trump's presidency. The Trumps served up the best of American fare at the state dinner, with a few French touches.
Unifying menu
So is serving Mr Kim, who is believed to have a love of French cheese and wine, a Swiss dish a conscious ploy on the part of the South Koreans to win him over?
"It's certainly part of the tactics," says Johanna Mendelson-Forman, an adjunct professor at the American University in Washington DC and an expert in the field of culinary diplomacy.
"The whole menu is fascinating," says research consultant Sam Chapple Sokol, who argues that food at the summit is, literally and figuratively, setting the table for positive discussions.
"Because it calls upon all the regions of both Koreas, it's a unifying menu. So, the goal really seems to be unification on the table."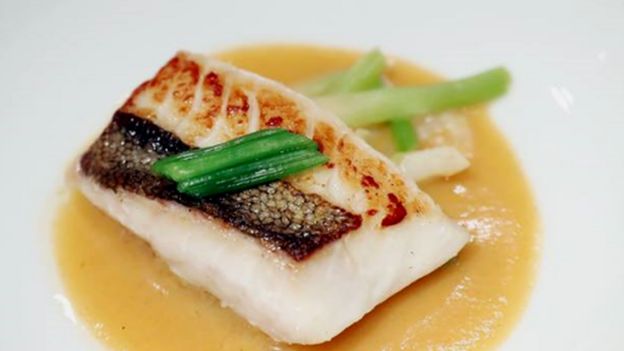 He points out that the North Korean government has never actually confirmed that Kim Jong-un lived in Switzerland, and so, "it…