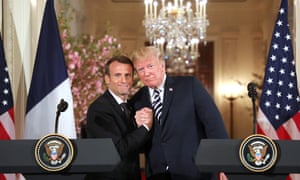 Emmanuel Macron has proposed negotiations on a "new deal" aimed at curbing Iran's military power and regional activities, to exist alongside a three year-old agreement that restricts the country's nuclear programme.
Amid the pageantry of a state visit laced with some characteristically undiplomatic touches from Donald Trump, the French president offered the idea of a new deal at a joint White House press conference with his US counterpart as a way of salvaging the 2015 agreement, which Trump has threatened to leave.
The offer seemed calculated to appease the US president's discontent with the current agreement, the 2015 Joint Comprehensive Programme of Action (JCPOA) by proposing a broader initiative to tackle other elements of Iran's challenge in the region, particularly its ballistic missile programme, and its military role in Syria.
"I always said we should not tear apart the JCPOA and have nothing else," Macron said. "This would not be a good solution." But it was unclear if Trump had agreed.
Macron is on the first state visit to take place during Trump's presidency. The two presidents have gone out of their way to stress their personal chemistry, planting a tree on the White House south lawn, holding a dinner at George Washington's house at Mount Vernon and hugging, hand-holding and cheek-kissing at the White House on Tuesday, where a traditional arrival ceremony featured nearly 500 members of the US military and a booming 21-gun salute.
But the intimacy took an awkward turn when Trump took Macron by surprise, ostentatiously brushing what he said was dandruff from the French president's jacket. "We have a very special relationship, in fact I'll get that little piece of dandruff off," Trump said. "We have to make him perfect – he is perfect."
Saving the Iran nuclear deal would be a diplomatic coup for Macron, who has taken a political gamble in befriending a US president who is deeply unpopular in Europe.
At a joint press conference in the East Room of the White House, Macron observed that while Trump saw the Iran nuclear agreement as "a bad deal", he believes it is "not sufficient" and proposed a new deal, that would complement the JCPOA.
"I'm not saying, we are moving one deal to another," Macron said, but added that the JCPOA was just one aspect of the problems Iran presented.
He said that while the JCPOA restricted Iran's major nuclear activities until 2025, a new deal would go further, imposing a…