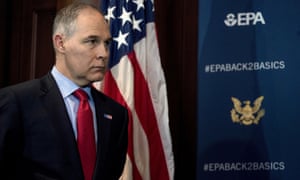 The fossil-fuels lobbyist tied to a bargain-priced Capitol Hill condo that was leased by Environmental Protection Agency chief Scott Pruitt is taking early retirement as a result of the scandal.
Pruitt remains in his job, with the expressed backing of Donald Trump, despite a chorus of Democrats and a growing list of Republicans calling for Pruitt to be fired amid a string of ethics issues, including questions about his use of first class air travel and such pricey security precautions as a $43,000 anti-eavesdropping phone booth for his office.
The EPA inspector general announced earlier this week he will review spending by Pruitt's full-time security detail, the latest in about a dozen ongoing investigations related to Pruitt by various government agencies.
The lobbyist, J Steven Hart, sent an email to friends and colleagues on Friday, announcing that he is leaving Williams and Jensen, the powerhouse Washington lobbying firm where he was chairman.
Hart, 64, said he had been planning to retire in November but intense scrutiny resulting from the unusual rental arrangement with Pruitt had…