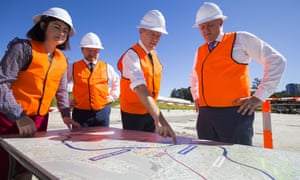 Together they are Brisbane's most significant public transport projects – two plans to prevent river bottlenecks for city buses and trains.
The Brisbane metro and cross-river rail projects are even designed to work together. If only the federal and Queensland governments could get on board and agree on a direction.
Guardian Australia understands the federal government will allocate roughly $300m in funding for the Brisbane metro bus project in the upcoming budget. The rest of the $1bn total cost comes from the Brisbane city council, which manages the bus network.
On Monday, federal Labor promised $2.2bn for cross-river rail, a project the Queensland government is already committed to financing without federal help. So far, the Turnbull government won't help pay for the rail plan, which involves building four new underground stations and alleviating a key choke point, citing problems with the state's business case.
In 2012, a version of the cross-river rail plan was assessed as "ready to proceed" by Infrastructure Australia. But IA now instead ranks the metro project among its top priorities nationally and says "the benefits of [cross-river rail], as set out in the business case, are significantly overstated, and the costs of the project as currently presented are likely to exceed its benefits".
The metro project scores higher than cross-river rail on a cost-benefit analysis. Largely because the cost is relatively low, work could start immediately, and a bus interchange at the South Brisbane cultural precinct is long overdue.
Brisbane is also a bus city. Dedicated busways allow for short and efficient trips. The city's rail network is not as extensive as in Sydney or Melbourne, and buses are a more convenient form of travel for many residents.