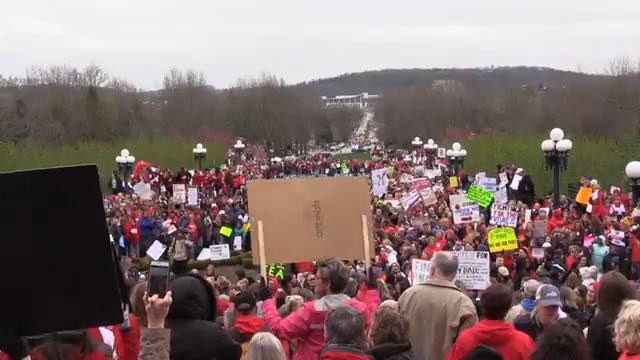 Rally in support of teachers gather in Frankfort to protest the recent pension bill. Astrid Hacker/Louisville Courier Journal
The day Kentucky's legislature revived and approved a surprise package of pension reforms, teachers and their supporters rushed to the Capitol to protest — and didn't sugarcoat their outrage.
"You're a scab!" a spectator called down to a Republican lawmaker (and teacher) who forcefully backed the pension bill during the House of Representatives' debate over it.
When another Republican chided her for that comment, she retorted, "He is a scab and so are you!"
The exchange is indicative of the rising tension between public school teachers and state lawmakers, a tension that may carry over into election season as educators focus on turning the signs and shouts of recent protests into votes.
"What has happened in the last two months has created a new voting bloc that is pro-public education," said Brian Foudray, a high-school English teacher in Clark County. "It's a clarifying event — almost like a lightning strike. And you see everything differently after that."
Consider this: Could charter school money and tuition tax credits still have a shot?
Teachers will be registering to vote, making small campaign contributions and knocking on doors to advance candidates who support public education, Foudray said. And they'll oppose those who don't.
Teachers have formed several Facebook groups to organize their efforts. The largest among them is KY 120 UNITED which, as of Thursday, had more than 42,000 members.
"It's been a rolling wave coming," said state Rep. Kelly Flood, a Democrat from Lexington, where classes were canceled Friday so teachers could rally in Frankfort on the penultimate day of the legislative session.
"Everybody and anybody who's worrying and chewing their fingernails about what's coming this summer, walk with confidence because we have never had this kind of activism, and people are thoroughly engaged," Flood said.
Many Kentucky educators have vowed to vote out lawmakers who supported the pension bill, which Republican Gov. Matt Bevin just signed into law.
"Beyond a shadow of a doubt, they will be voted out come November," said kindergarten teacher Regina Boone, president of the Hardin County Education Association.
All 100 seats in the House and half the Kentucky Senate's 38 seats are on the ballot.
Forty-three current or retired educators are running as Democrats for the legislature, party spokesman Brad Bowman said.
Republican educators are running for office this year, too. For example, House Majority Leader Jonathan Shell, R-Lancaster, will face a teacher who works in Rockcastle County, R. Travis Brenda, in May's GOP primary.
"I think this transcends party lines," Bowman said about the recent groundswell of support for public education. "I think seats are going to be flipped."
Why are teachers angry?
Concerns about inadequate funding for public education aren't new in Kentucky, and neither is the state government's pension crisis, which grew gradually over the last 20 years. Politicians of both parties bear some blame for these problems.
But scores of teachers have grown tired of pulling money from their own pockets to buy classroom supplies as their public schools' budgets grow ever-thinner. And they're worried the pensions they're counting on (especially since they aren't eligible for Social Security) will be slashed too deeply and fall short of their needs.
Much of their outrage has been directed toward Republicans, who control Kentucky's legislature and its executive branch.
State legislators spent much of the session struggling to craft a pension bill capable of passing the House and Senate. Teachers were seen often in the Capitol — sometimes in large, loud crowds — to voice their opposition to the potential changes.
Bevin inflamed the debate during radio interviews in March when he called teachers protesting the proposed reforms "selfish and short-sighted" and criticized the "thug mentality" of some people resisting Republican efforts to address the pension problems.
Although the governor indicated that the Kentucky Education Association is the problem, not average teachers, his comments angered and united many educators.
"It's been fairly organic. A lot is online, sharing things and also talking at school," Foudray said of teachers' recent political…