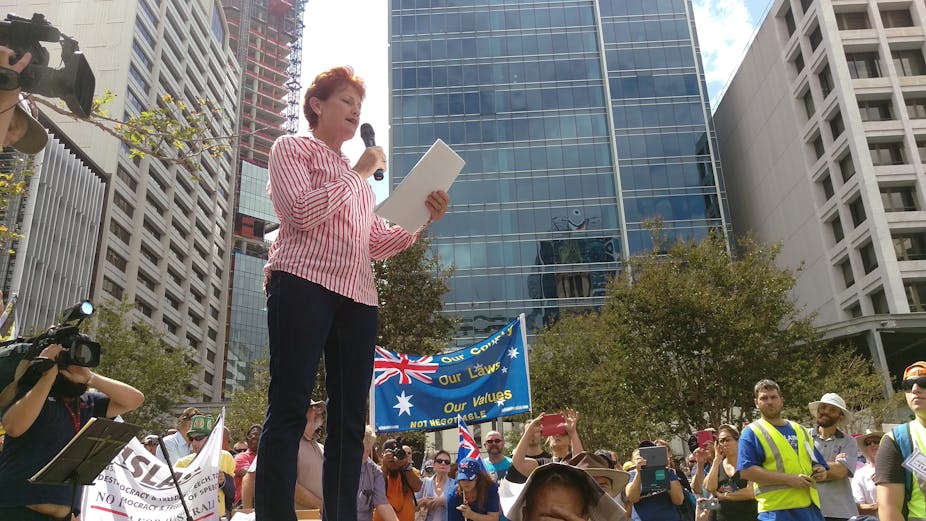 This article is the last of a five-part series on the battle for conservative hearts and minds in Australian politics. Read part one here, part two here, part three here and part four here.
Far-right political groupings are a constant feature on the fringes of Australian politics. In the 1950s and 1960s, they included the League of Rights and minuscule neo-Nazi parties. In the 1980s, there was National Action, the Australian Nationalist Movement, Australians Against Further Immigration and the Citizens Electoral Council.
In recent years, we have witnessed the emergence of a number of groups that combine online organisation with intimidating street activity: Reclaim Australia, Rise Up Australia, the Australian Defence League, the United Patriots Front, True Blue Crew and Antipodean Resistance.
While hostility between – and within – far-right groups is typical, they are united by their nationalism, racism, opposition to "alien" immigration and disdain for democracy.
Most far-right activists continue to be excluded from polite society. But the endorsement of their ideas by some mainstream political figures has allowed them to make creeping gains into the political culture.
Paranoid style
A feature of far-right movements was characterised in the 1960s by the American political scientist Richard Hofstadter as the "paranoid style":
a style of mind that … evokes [a] sense of heated exaggeration, suspiciousness, and conspiratorial fantasy.
A common belief concerns conspiracies that are hidden by the media, which disseminates what today is termed "fake news" or "alternative facts", previously known as propaganda and misinformation.
The conspirators have been identified in various guises, with the common element being the promotion of international and cosmopolitan, as distinct from national, values. They include Freemasons, Catholics (or "Papists"), Jews, Muslims, Communists, Socialists and Fabians.
International organisations such as the United Nations are especially suspect – seen as agents of a "New World Order". Climate scientists and environmentalists, with their proliferation of international treaties, have become major targets in recent years.
Eric Butler, the driving force of the League of Rights for half a century, strove to unmask what he saw as the "New International Economic Order", orchestrated by Jews, manifested in the Indigenous land rights movement, the destruction of family farms and small businesses, and the policies of "multi-racialism and multi-culturalism".
In the 1980s and 1990s, far-right groups focused on their discovery of the "The Grand Plan – Asianisation of Australia". The…