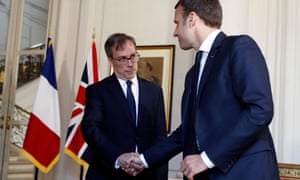 It was supposed to be a simple mission to update British nationals in Paris about their rights after Brexit. The setting was the 18th-century embassy building, the backdrop to centuries of British diplomacy.
Instead Edward Llewellyn, the British ambassador, was subjected to a two-hour roasting by angry British nationals.
"I went there seeking reassurance and I came away terrified about my future," Ian Fox, a senior executive at an internationally renowned consumer brand in Paris, told the Guardian after the meeting.
Lord Llewellyn, who was formerly David Cameron's chief of staff, started out with a prepared speech about the "considerable progress" Brexit negotiators had made, explaining how he understood their "anxieties and concerns".
But he ended up being heckled and laughed at when he told them Theresa May had prioritised their rights.
"Feel the temperature in the room," one man shouted.
Asked if there would be a second referendum, Llewellyn was unequivocal. "There is not going to be a second referendum," he said. "A second referendum is not the government policy." This drew gasps of surprise from the audience as it is a political, rather than diplomatic, question.
One woman wanted to know about inheritance law for children born in France and when the Department for Exiting the European Union official told her it was not within "his scope", she interrupted: "Just say you don't know."
She also wanted answers about the future EU research funding rights for a PhD student born to British parents in France, but now studying in London. Would he continue to get funding if he returned to France?
Afterwards she said many felt the only way to not be stripped of rights was to get French nationality.
…