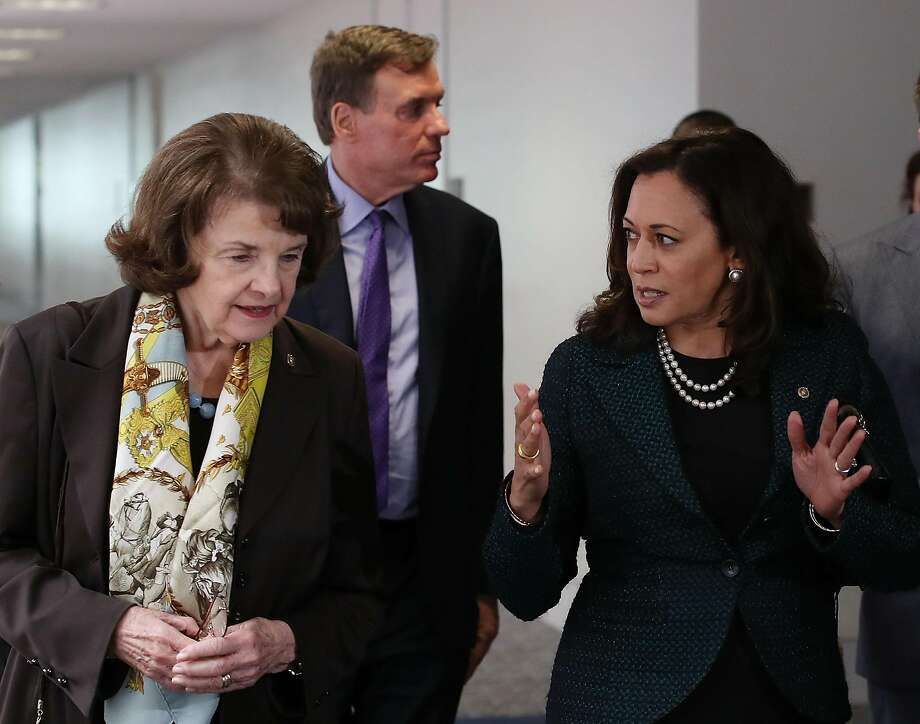 WASHINGTON, DC – APRIL 27: Sen. Dianne Feinstein (D-CA)(L) walks with Sen. Kamala Harris (D-CA) and Sen. Mark Warner (D-VA) (C), to a Senate Select Committee on Intelligence closed door meeting at the U.S. Capitol, on April 27, 2017 in Washington, DC. The committee is investigation possible Russian interference in the U.S. presidential election. (Photo by Mark Wilson/Getty Images)
California Sens. Dianne Feinstein and Kamala Harris highlighted very different worries Tuesday when they had their chance to question Facebook founder Mark Zuckerberg in a televised Senate hearing that ran for nearly five hours.
For Feinstein, the "alarming" Russian intrusion into the 2016 presidential campaign was her top concern. The senator said foreign actors had abused Facebook and other social media platforms "to interfere in elections and take millions of Americans' personal information without their knowledge in order to manipulate public opinion."
Harris wanted to know how 87 million Facebook users could have their online histories vacuumed up and secretly shipped to a political consulting firm linked to Donald Trump's 2016 presidential campaign, without the social media company letting anyone know about it for years.
"I'm concerned about how much Facebook values trust and transparency," Harris said. She added that she had previously asked Zuckerberg "several critical questions for which you don't have answers," including why Facebook hadn't alerted users that their data had fallen into the hands of the Cambridge Analytica political consulting firm when the platform discovered it in 2015.
"Knowing what we know now, we should have handled a lot of things here differently," Zuckerberg said, stating what was the theme of his long afternoon under the TV lights.
The differing approaches of Feinstein and Harris were due at least in part to the audiences they were playing to, said David McCuan, a political science professor at Sonoma State University.
"Feinstein is used to playing the adult in the Democratic caucus, and her long experience with foreign affairs and intelligence issues…